SAD EVENT
Author: Iveta Sujová
On March 26, 2020 in the early hours, I was suddenly left by my longtime colleague, friend and the head of the band Vladimír Valentýni "Wanny", born on September 1, 1944. He was a remarkable man, with whom I've worked in the music business for 35 years. Rest in peace.

In 1990, we founded the V-TRIO music band together.
In 1993, he became the founder of V-TRIO agency and publishing house.
A year later, in 1994, he co-founded a versatile music band STARLINEBAND with me, which is on the music scene to this day.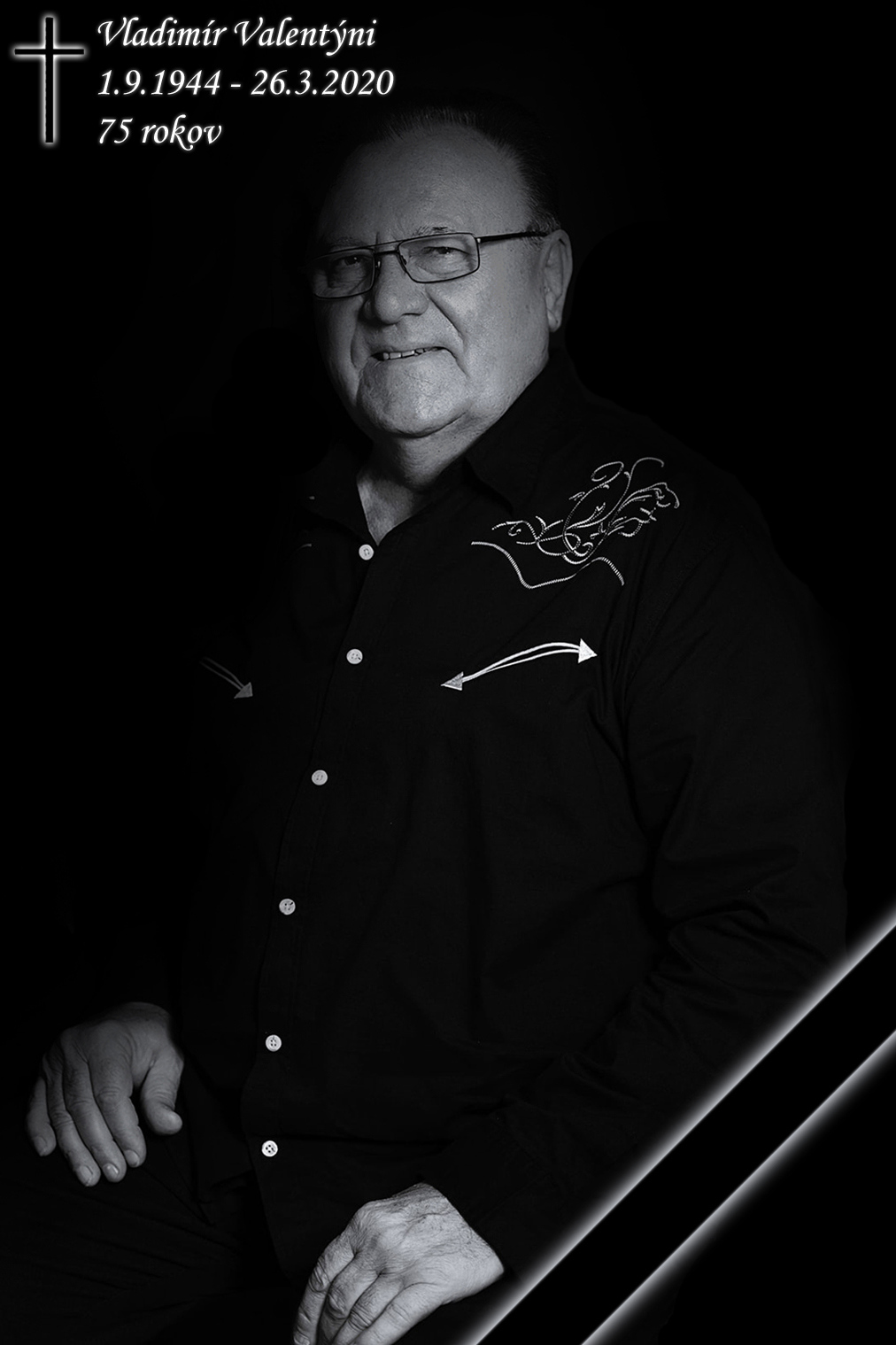 ---
THE BAND AND ITS NEW COMPOSITION
June 12, 2020, STARLINEBAND was unfortunately forced to start the summer season without "Wanny" Vladimír Valentýni. The new band formation consisted of myself and Michal Gajdoš, Wanny's 27-year-old grandson. Michal entered the world of music as a DJ and has inherited a great amount of musical talent as well as skills from his inspiring grandfather. In 2002, he managed to release two non-commercial singles. I am extremely happy to have him as my colleague and am glad that our cooperation will be successful and will have the highest level possible.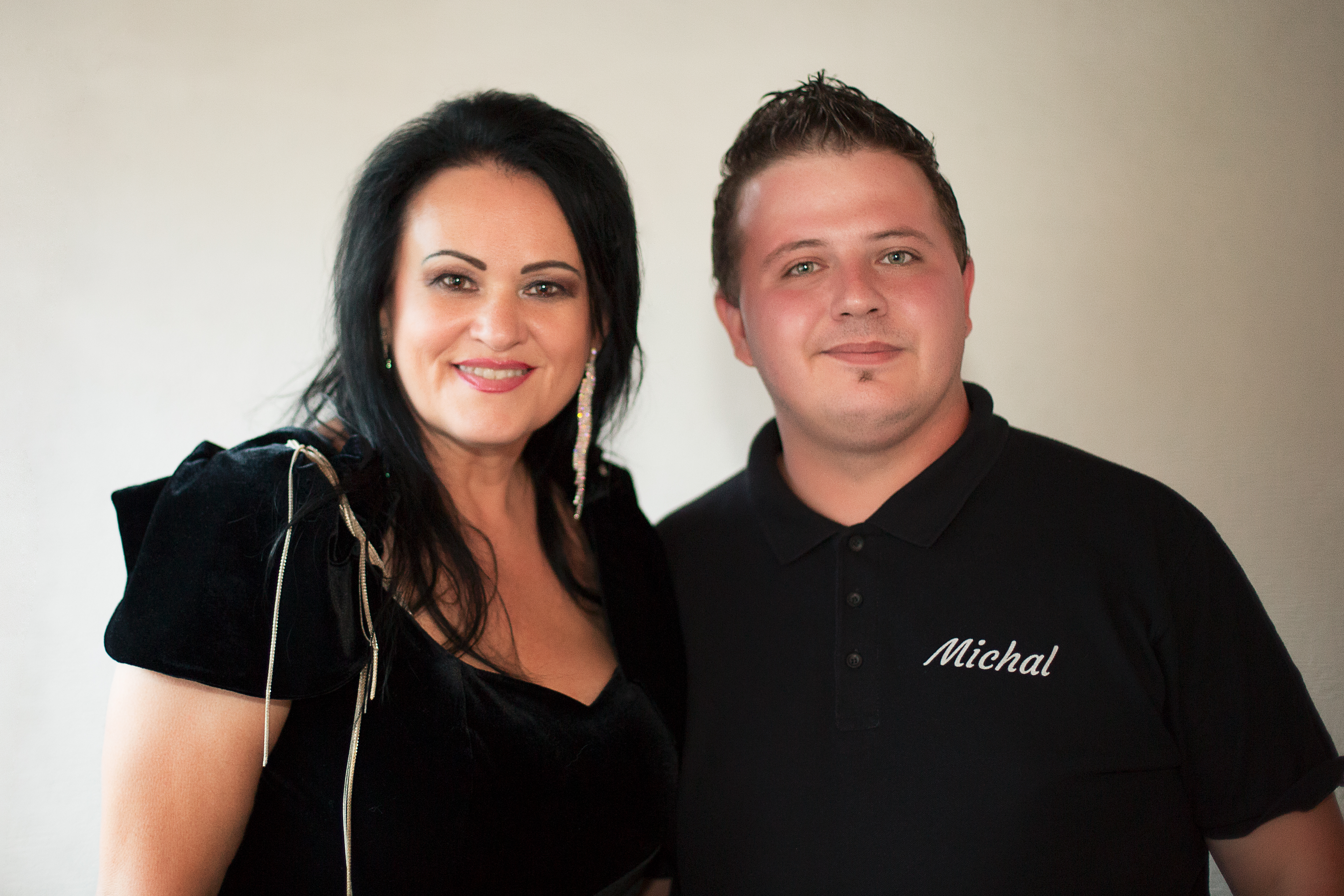 ---
MY ART CURRICULUM
My dear friends, where should I start. I've been singing since I was a child. It started to be more serious when I was 17 and my professional career began in 1990. I started with folk songs, the modern ones, and have had my fair share of opera singing too. This is my chronology:

1987 - ROH manufactory - Oil pipeline



1990 - Formation of the V-TRIO band with Wanny and saxophonist and folkman Stanko Fojtík, who has been by our side at larger events till today. We decided to start our professional career by collaborating with the guitarist and singer Edko Sába (1991), and after a short time with Janko Kosec (1992) as well. Together, we played in several establishments in Slovakia, but were more and more attracted to performing abroad.

1992 - We managed to come across a guitarist and singer Viliam Pobjecký, with whom we've found our way to Germany and Switzerland. Our cooperation, however, did not last long, because we received another job offer.

From 1993-1994 we formed a TRIO with "Jennifer" Janka Tomajková, a serious singer playing an acoustic guitar. We worked together in Germany, Switzerland and Tunisia on Dar Jerba. Later, Jennifer received a job offer to join the media industry and television, so our collaboration ended. The wind took her to Australia, but despite that, we're still in touch till today. I respect her immensely and have learned a lot from her. Because of our collaboration together we met Orlando Padill in Tunis. Orlando was a music agent from London, who offered us a collaboration, and thus a new era for our band began.

1994 - Official establishment of "Starlineband" together with Wanny. Wanny and I have expanded the group due to the requirements coming from abroad. We added new performers: Zuzka Félixová, Martina Oborilová and Milan Galierik. Once again, we found ourselves working in Germany and Switzerland. Austria was added later, and we didn't say no even to performances in Bahrain, which had opened opportunities for us to work in the Near and Middle East. However, a big hard-to-sell group has started to be a problem, so we stayed only as a TRIO with Zuzka Félixová until 2000.

We worked together in several hotels in Jordan, Dubai and finally in Abu Dhabi. What feels good is that at the time, we were the only band from the "Eastern Bloc" to also do charity events in Pakistan and Dubai. Unfortunately, family problems forced me to stay in Slovakia and I could not continue a long-term work abroad.

2000 - 2002 Short-term performances in Germany, Austria and Switzerland with the Balla brothers from the AFTER EIGHT group.

Circumstances still allowed me to perform several short-term performances in the Emirates with Wanny and Dagmara Ovšiniaková as a DUO or a TRIO until they forced me to definitively terminate my work abroad. Therefore, I decided to build my own equipment setup and work independently. I worked alone for 3 years and in addition worked in various bands around Slovakia – most frequently in the band "Excellent" (Ervín and Andrejka) from Kuraľany.

2006 - Wanny ended his work abroad and upon his return, we joined forces again, modernizing our technical equipment as well as our repertoire. As a DUO, we started off well. Years later, we joined forces again with Stanko Fojtík and Janko Pálka (excellent folkmen) and larger events are still pleasant memories of this combination.

Unfortunatelly, on March 26, 2020, Wanny passed away. We are currently in the stage of a coronavirus pandemic, so our performing is suspended. However, we are continuously perfecting our old and preparing a new repertoire for you, so that we can warm up your hearts and contribute to your good mood. We were born for this!

---
THEY WROTE ABOUT US
"Three´s enough"
They are musician of sorts by birdh. Due to their excellence in plaiyng musical instrumets of all types, more and more musicians from the former East bloc in Europe are being recruied to come and perform in the Middle East. Another advantage is that these musicians and singers are multi-lingual which means that they can easily entertain guests of all nationalities. The latest such band to arrive in Dubai is the Starline plaiyng at The Office Restaurant Metropolitan Palace Hotel in Dubai.

Made up of three members -two women and a man -Starline is from Slovakia. Led by Vladimir Valentiny,or Vany as he is affectionately called,the band's singers are Iveta Sujova and Zuzana Felixova. Vany was a mants and sciense teacher before he started as a musicians. Even while teaching, he used to play the piano. He says he left his job as a teacher because the work load was increasing but the pay was not.So, instead of carrying on teaching, he decided to do what he really liked to do- to be a musician. He joined a band but moved on to another soon enough. After moving from band to band,he decided to form his own outfit.

And so he started Vany Trio, which inclued him and two other musicians. This was eleven years ago. And one day when he was playing at this restaurant, he came across a young waitress Iveta Sujova whom he had heard humming songs. He felt she had the talent but needed some practice with her voice. So,he advised her to practice singing and when he was satisfied that she was good enough he asked her to join his band. And since then Iveta has been with him. The other singer,Zuzana, however is relatively new to the band. She joined them one year ago. Before this was singing with her father who is a musician too. But she wanted to branch out and joined Vany and has been with him since then. The Trio have travelled to many countries in Europe including Germany, Switzerland and Austria and to Bahrain,Jordan and Tunisia in the Middle East.

They sing in Slovak German,Italian,Spanish and English besides gypsy songs. While Vany likes the songs of Chris Rea and Frank Sinatra, Iveta alias Eva,too prefers Sinatra and Celine Dion. Zuzana on the other hand admires Natalie Cole. She is a fan of Britney Spears. That evening they entertained the guests by singing in different languages. In English, it was the Beatles,Celine Dion's evergreen favourite My Heart Will Go On,Half a Minute by Matt Bianco and Money,Money by Abba. In Spanish it was Julio Iglesias whose songs they sang. But the most interesting part was when they switched to gypsy numbers to a foot-tappiing beat. Such was the pull of the music that they burst out dancing much to the delight of the guests. In fact,they received a pleasant surprise when some of the people present there asked them to sing some Slovak numbres

In a place like Dubai where things change so swiftly and people are always on the lookout for something fresh,here is a new band to entertain you. So if you wish to listen to international music plus some gypsy tunes,head for The STARLINE BAND.



Gulf News - Dubai, U.A.E.